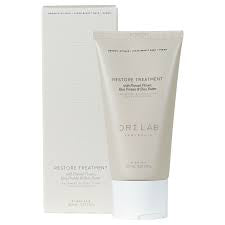 ORI LAB Restore Treatment
This treatment is perfect for those with naturally dry and dehydrated hair textures. Its unique formula infuses hydrating ingredients to restore moisture and enhance elasticity, leaving hair feeling soft and conditioned. The treatment is easy to use and can be applied to wet or dry hair, making it a versatile addition to any hair care routine.
What are the benefits and features of ORI Lab by NAK Hair Restore Treatment 150ml?
Rehydrates naturally dry and dehydrated hair textures.
Enhances elasticity, softness, moisture, and conditioning feel.
Infuses hydrating ingredients to restore moisture and improve hair health.
Can be applied to wet or dry hair for versatility.
Easy to use formula for convenient hair care